October 13, 2023
Negril, Jamaica
LARGEST, HOTTEST, LONGEST CARIBBEAN BLEACHING:
CORALS DYING FROM EXTREME HEAT
Reanne McKenzie
Executive Director, Negril Environmental Protection Trust
Jean Brown, President, Negril Coral Reef Preservation Society 
Thomas J. F. Goreau, PhD, President, Global Coral Reef Alliance
The entire world is suffering record high temperatures, and the Caribbean is in the forefront of global warming. Jamaica is now the epicentre of the largest, longest, most extreme Caribbean high temperature mass coral bleaching event yet. Corals in Negril, and all around the Caribbean, are dying from heat stroke. Decades of progress regenerating corals have been wiped out. Negril is worst affected in Jamaica because the hottest water right now lies between Negril and Honduras.
The Negril corals shown completely bleached (see photographs below) were normally coloured 6 days before. A week later, corals were starting to die. The most affected species are the elkhorn, staghorn, and fire corals that build the reef crest and beaches. The event is only starting: all corals are fully bleached from loss of internal algae caused by extreme high temperature. Most are bright white, but turning brown day by day as they die and are overgrown by bacteria. Many corals show unusual blue, pink, yellow, and green colours despite being fully bleached. These colours lie in the coral tissue, not in the vanished symbiotic algae that give corals most of their normal colour.
It is too soon to predict mortality, the water is still warming up in most of the Caribbean, and we can expect high temperatures to last another month or two. It is only when the event is completely over that coral mortality can be estimated.
Jamaican coral scientist Dr. Tom Goreau, and first Scientific Advisor to the Negril Coral Reef Preservation Society and the Negril Environmental Protection Trust, has followed bleaching in Jamaica since the first event in 1987. Dr. Goreau says "this is the largest, longest, and hottest extreme high temperature event we have yet experienced, and serious coral death is inevitable. In 2023 it has been hotter longer than in 1987, and then corals bleached gradually over a month. The sudden and extreme rise of temperature here in Jamaica was so fast that corals bleached almost immediately. This year will be the death of most of our few surviving corals.  I have dived on Jamaican reefs for 70 years, and warned for 35 years what would happen if global warming was not stopped. Now it is too late for our most important corals".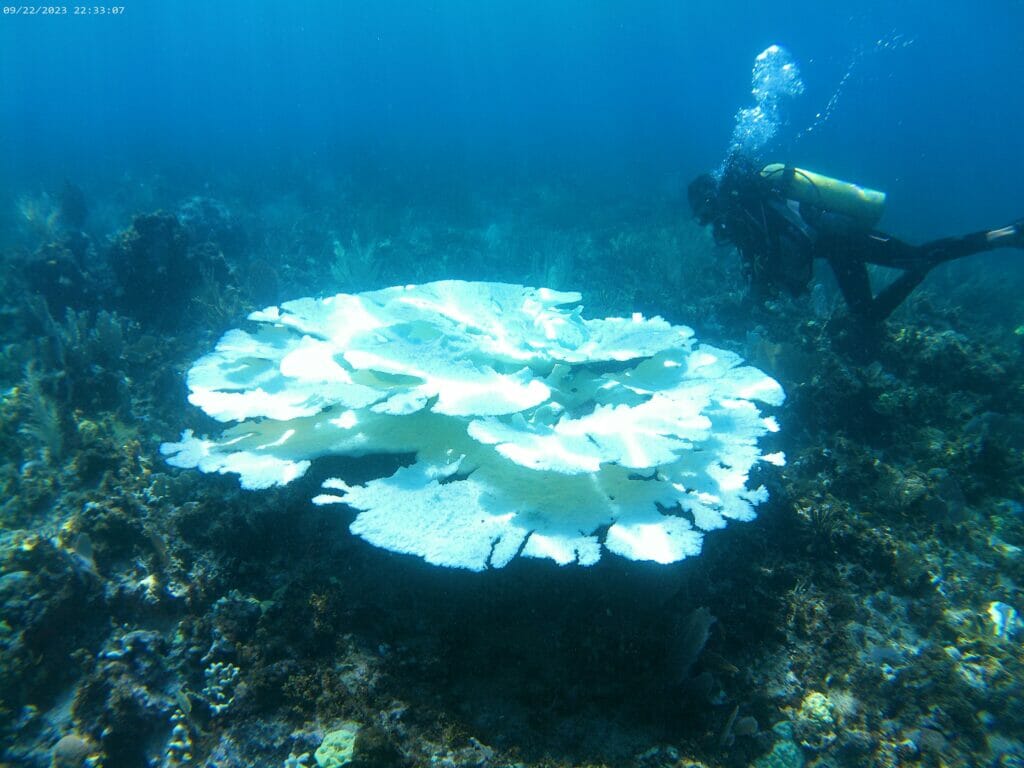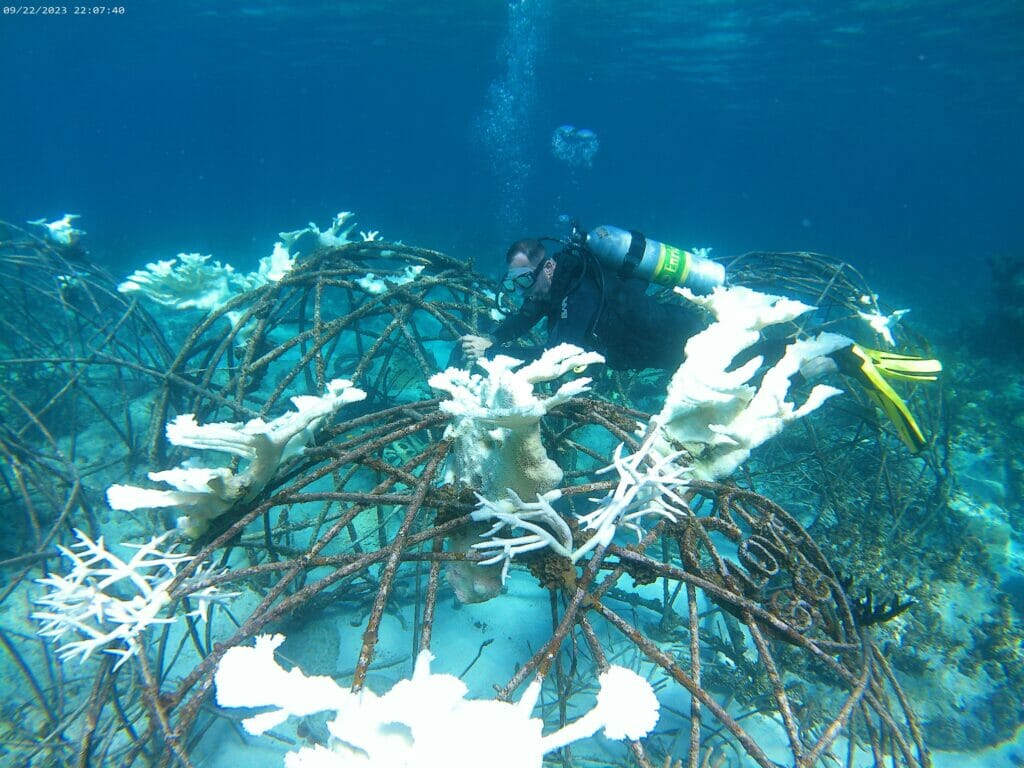 Bleached Elkhorn and Staghorn corals in Negril, photo by Sabine Bolenius.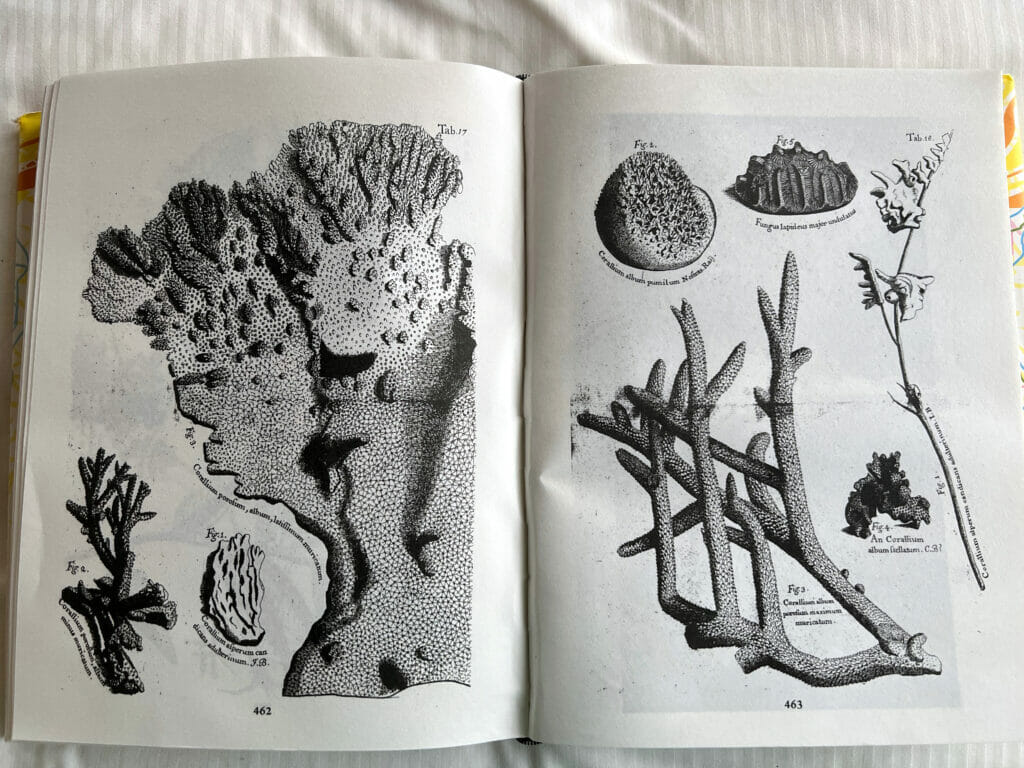 These plates show Jamaica's iconic reef building corals, Elkhorn, Staghorn, and Fire Corals, which are the ones dying first in 2023, as shown in Jamaica's very first natural history book by Hans Sloane. These corals were collected in the 1600s from Port Royal fishermen's nets in coral reefs inside Kingston Harbour, which died from pollution around 60 years ago.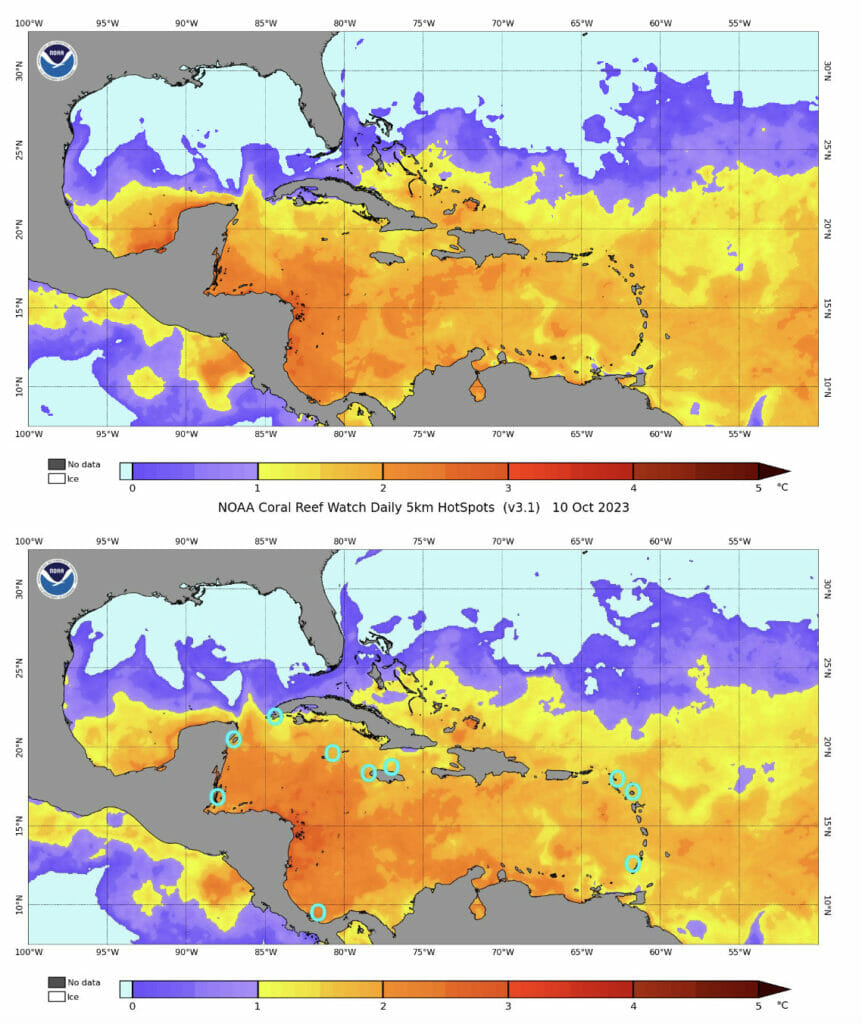 Top: The latest NOAA Coral Bleaching HotSpot map showing current extreme sea surface temperature heat stroke event (Goreau & Hayes, 1994; 2021). Bottom: Some of the locations where bleaching is currently confirmed from local environmental groups. Corals in yellow areas will bleach in about a month, in orange areas they will die in around a month.
Jamaica was the first place in the world where bleaching was confirmed to be caused by high temperatures (Goreau, 1990), where coral bleaching prediction from satellite sea surface temperature was invented (Goreau & Hayes, 1989), and where the Government was first warned about the imminent threat of global warming to coral reefs (Gleaner, 1990).
We are now at the point of effective extinction of Jamaica's most important corals, caused by fossil fuel greenhouse gases. Those who have caused destruction of our most important ecosystems should be held financially liable! We call yet again on Jamaica to take the lead in protecting our last corals, here and around the world, at the United Nations Convention on Climate Change!
BACKGROUND:
The Negril Environmental Protection Trust (NEPT) is a community-based environmental management group working in the Negril Marine Park, Watershed, and Coastal Zone, in Western Jamaica.
NEPT and the Negril Coral Reef Preservation Society (NCRPS) will seek emergency funds to document the long-term effects of the bleaching event on coral survival and regeneration.
For more information, please contact:
Negril Environmental Protection Trust
876 957-3736
Follow on social media
Facebook & Instagram: neptnegril
The Global Coral Reef Alliance was founded in 1990 to represent the Negril Coral Reef Protection Society, Negril Environmental Protection Trust, and other Small Island Developing States locally-managed coral reef protection organizations at the United Nations Framework Convention on Climate Change, in order to seek funding for effective coral reef protection and restoration in developing islands.
For more information: www.globalcoral.org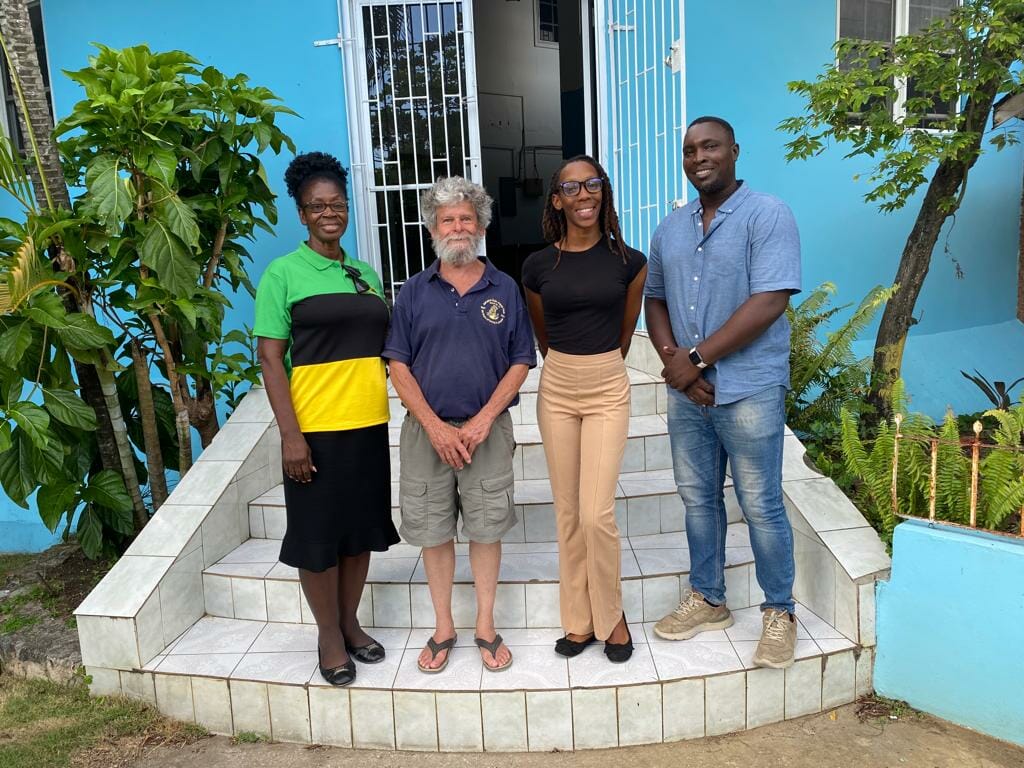 L to R: Jean Brown, Tom Goreau, Reanne Mackenzie, Mario Whyte.