Global Coral Reef Alliance
The Global Coral Reef Alliance is a small, 501(c)(3) non-profit organization dedicated to scientific research and sustainable management of the most valuable and threatened of all ecosystems—coral reefs.
GCRA is a worldwide coalition of volunteer scientists, divers, environmentalists and other individuals and organizations, committed to coral reef preservation. We primarily focus on coral reef restoration, and cutting-edge research on impacts of coral bleaching, global warming, marine diseases, global sea level rise, and pollution on corals.
GCRA scientists work with community groups, environmental organizations, foundations, governments or private firms to build, restore and maintain coral reefs, nurseries and marine sanctuaries.
GCRA Projects include restoration of coral reefs and marine habitats for mariculture, tourism and shore protection.
GCRA invented and developed Mineral Accretion Technology™ and the Biorock™ method of electrical coral reef and marine ecosystem restoration, the HotSpot™ method to correctly predict coral bleaching from satellite sea surface temperatures, and integrated whole-watershed and coastal zone nutrient management (now commonly referred to as Ridge to Reef, or Hilltop to Ocean).
Founded in 1990, GCRA is the direct heir to a pioneering coral reef research tradition stretching back to the 1920s, and has the world's largest collection of coral reef photographs from the 1940s, 1950s, and 1960s.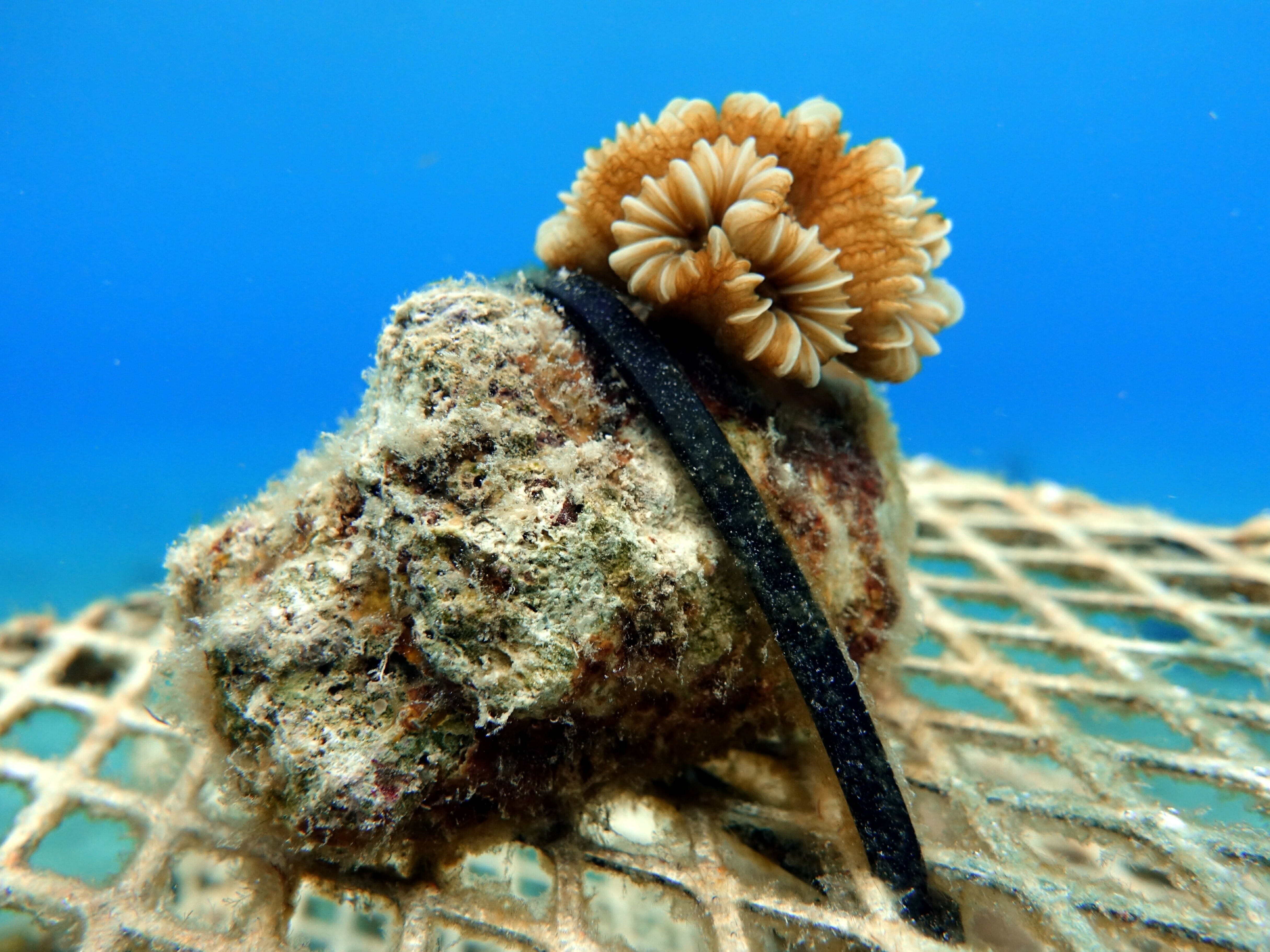 Restoring
Coral reefs and marine habitats all around the world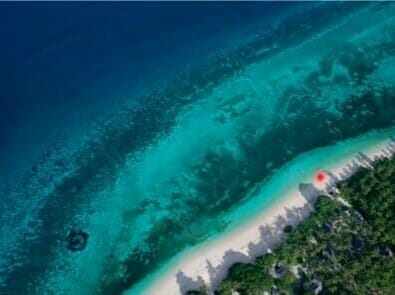 Protecting
Coastal shorelines from erosion and the effects of climate change.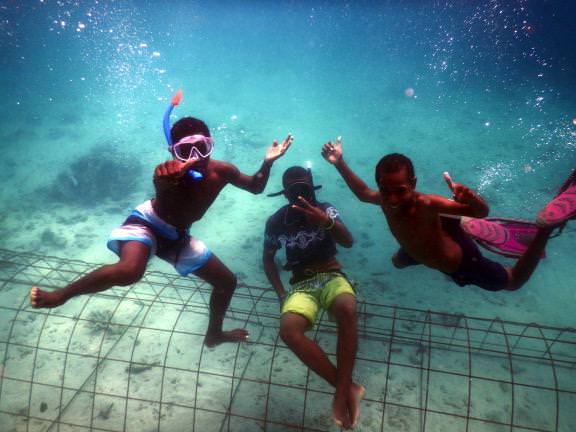 Helping
Local communities develop sustainable maricuture practices. 
December 21 2022: GCRA WINTER SOLSTICE REPORT
2023 CORAL REEF BLEACHING EMERGENCY FORECAST
Severe coral reef bleaching in 2023-2024 is forecast by GCRA's Coral Guru at the December 21 2022 Winter Solstice. Few people realize that global land surface warming has been suppressed over the last few years by a severe and prolonged La Niña cold event, but the excess global heat absorbed by increased greenhouse gases has not vanished, it is trapped in the deep sea and much will return to tropical surface waters in the next El Niño.
The next El Niño has just started in the last few weeks to heat up Eastern Pacific surface waters, and is expected to develop strongly in early 2023. At the end of 2022 Peru and Chile coastal waters, and the Great Barrier Reef, are rapidly warming, and a large high temperature HotSpot is developing over the South Pacific from Indonesia to Fiji, already including the northern Great Barrier Reef and likely to spread southward as waters warm up for summer.
Unless this ongoing warming trend suddenly reverses, severe high temperature bleaching is likely to take place in the next few months. During 2022, prolonged high temperature HotSpots are thought to have caused severe bleaching in Hainan, Taiwan, Okinawa, Palau, and New Guinea, among other places. Unfortunately, there are no reported observations because severe mass bleaching events are no longer being documented, neither by coral reef scientists, whose field monitoring programs were mostly ended by Covid, nor by commercial dive shops, terrified potential customers might cancel bookings if they hear reefs have bleached.
Nobody can predict future weather and forecast future El Niños accurately, but we can predict future climate precisely, and the trend is towards stronger and more severe El Niños in the future. Time will tell if the imminent 2023 El Niño just starting will break the record high temperatures and bleaching of the last El Niños, but if it merely matches them, heat stroke may kill most of the remaining corals in tropical waters in the next few years. Emergency life-support is essential to save coral reefs from extinction.
See: Global warming triggers coral reef bleaching tipping point
https://www.globalcoral.org/global-warming-triggers-coral-reef-bleaching-tipping-point/
BIOROCK CORAL ARKS FOR CORAL REEF EXTINCTION CRISIS
Decades of results, summarized in the latest reviews (see below), show that Biorock is the only method known that greatly increases coral reef recovery and survival from heat stroke in extreme bleaching events. These unique life-saving benefits are because coral health and stress resistance is supercharged by the Biorock process.
The Biorock solutions, which were developed in small islands, are available worldwide, but are not being used due to lack of funding for effective action by developing countries, while money is wasted on ineffective rich-country "break and glue" methods that provide no protection from high temperature or bad water quality, and are doomed to fail in the next extreme heat shock or pollution event.
GCRA has systematically warned that global warming passed the tipping point for mass coral bleaching since the 1980s! Now there is very little time left for coral reef countries to prepare for the next El Niño by saving their corals from heat stroke on Biorock Coral Arks with Biorock's life-enhancing charge.
Indonesia is the only country in the world that is prepared now to save their reef biodiversity with Biorock technology. Indonesian Biorock groups are currently growing around 80% of the world's tropical reef-building coral genera and about half of all tropical reef coral species on hundreds of Biorock Coral Arks across the archipelago. These corals will survive extreme bleaching events, when all conventional coral nurseries will die:
https://www.biorock-indonesia.com/en/
https://giliecotrust.com/biorock/
Countries serious about saving their reefs, beaches, fisheries, and islands should contact GCRA to start immediate local emergency action before the next severe heat shock events makes it too late to save the corals!
See: Biorock Arks save corals from bleaching when fragmented corals die of heat stroke
https://www.globalcoral.org/biorock-arks-save-corals-from-bleaching-when-fragmented-corals-die-of-heat-stroke/
UNCCC COP-27 SACRIFICES CORAL REEFS AND LOW ISLANDS
For the 27th time in a row, the world's governments again failed to stop global warming-caused mass extinction of coral reefs and future flooding of low islands and coasts. The world's need to prevent dangerous runaway climate change was blocked by Saudi Arabia, Russia, and OPEC countries' objections to any CO2 targets. The future of coral reefs and low islands were sacrificed as collateral damage to oil profit greed today.
The Intergovernmental Panel on Climate Change (IPCC) has systematically underestimated climate change impacts by ignoring the inevitable long-term responses of warming and sea level rise "in the pipeline". The handwriting is now on the wall, the world's governments have knowingly failed to stop global warming in time to save most coral reefs, ignoring decades of warning that coral reefs would be the first ecosystem to go. It is now critically urgent to start Biorock Coral Arks in as many places as possible to save coral species biodiversity and ecosystem function from climate change mass extinction!
See: UNCCC COP-27 sacrifices coral reefs and low islands yet again
https://www.globalcoral.org/unfcc-cop-27-sacrifices-coral-reefs-and-sids-yet-again/
UN Oceans Conference
GCRA President and Blue Regeneration Chief Scientist Tom Goreau addressed the United Nations Oceans Conference in Lisbon, Portugal, on Biorock® Technology solutions for Climate Proofing Beaches, Regenerating Marine Ecosystems, Sustainable Mariculture, Blue Carbon sequestration, climate change adaptation, and producing cheaper and harder carbon-neutral and carbon-negative building materials in the sea.
See: Side Event at the United Nations Ocean Conference, Lisbon, Portugal, June 30 2022 by Dr. Tom Goreau, Chief Scientist, Blue Regeneration:
https://www.youtube.com/watch?v=6wDwCsxx4Q8
UN Sustainable Floating City Roundtable
GCRA's Tom Goreau addressed the Second United Nations Sustainable Floating City Roundtable in New York on Biorock technology to grow reefs to anchor floating cities for adaptation to global sea level rise, floating Biorock reefs to dissipate wave energy, to grow food through sustainable whole-ecosystem mariculture, and regenerative floating Biorock seagrass and saltmarsh ecosystem services to help purify coastal waters. The first Sustainable Floating City is planned for Busan, South Korea.
See: UN Habitat and partners unveil Oceanix Busan, the world's first prototype floating sustainable city
https://unhabitat.org/news/27-apr-2022/un-habitat-and-partners-unveil-oceanix-busan-the-worlds-first-prototype-floating
https://www.un.org/sg/en/content/dsg/statement/2022-04-26/deputy-secretary-generals-remarks-the-second-un-roundtable-sustainable-floating-cities-meeting-the-rising-seas-floating-infrastructure-prepared-for-delivery
Velaa, Maldives
The first new Maldives Biorock reef regeneration projects in nearly 25 years were started at Velaa Resort in Noonu Atoll. The project uses the first Biorock® in a Box power system, designed and built by Thomas Sarkisian, Chief Technology Officer of Blue Regeneration and GCRA Vice President. The new system, twice as efficient as conventional power systems, continuously data logging, transmitting information in real time, and remotely controllable, is designed for large ecosystem regeneration and shore protection projects, and available worldwide from Blue Regeneration SL (www.blueregeneration.com).
Within half a day the new projects were visibly seen to be working, and damaged naturally broken corals were rescued and transplanted. Within three days the Biorock reefs had the highest live coral cover and coral species diversity on Velaa's reefs, corals were overgrowing and attaching themselves to the structures, and large schools of fishes were moving in.
The severe decline of Maldivian corals from bleaching, dredging, and pollution is causing severe erosion. Biorock reef regeneration technology offers the first hope to reverse the catastrophic loss of Maldivian coral reefs, beaches, and the islands themselves from global warming and global sea level rise (see report below), and will play a leading role in the Maldives national sustainable development strategy to be developed at the 2023 Maldives Blue Economy Partnership Forum.
See: Velaa press release
https://www.globalcoral.org/velaa-private-island-installs-new-state-of-the-art-biorock-projects-to-regenerate-coral-reefs/
Full report will appear soon in:
https://www.velaaprivateisland.com/magazine/
For background please see: Maldives Biorock, past results and future applications.
https://www.globalcoral.org/maldives-biorock-past-results-future-applications/
Guna Yala, Panama
Meetings were held with the Caciques of the Congreso General Guna, the Government of the Guna Yala Indigenous Comarca in Panama, to plan major 2023 Biorock community training projects to regenerate coral reefs, sea grasses, mangroves and fisheries, protect eroding islands from sea level rise, produce carbon-negative building materials, and generate sustainable mariculture. The Guna people are now abandoning around a quarter of their island communities due to increasing ocean flooding.
See: Biorock technology, specifically invented and developed to solve the sea level rise problem forcing Guna people to abandon their islands:
https://www.globalcoral.org/biorock-a-technology-specifically-invented-and-developed-to-solve-the-sea-level-rise-problem-forcing-guna-people-to-abandon-their-islands-in-spanish-only/
Florida, USA
A Biorock seagrass, oyster, and clam regeneration pilot project was installed in the Indian River Lagoon, where failure to treat septic tank sewage effluents caused mass harmful algae blooms that have killed seagrass and shellfish, causing manatee to starve. Within a day of installation, the project could be clearly seen to be working, and seagrass, oysters, and clams will be transplanted and monitored when the water clears in the dry season.
MAJOR BIOROCK REVIEWS PUBLISHED
Major reviews were published in 2022 on Biorock technology applications for cost-effective large-scale marine ecosystem regeneration, sustainable whole-ecosystem mariculture, shore protection, production of carbon-neutral and carbon-negative building materials, and Blue Carbon sequestration in sea grasses, salt marshes, and mangroves:
See: Electric reefs enhance coral climate change adaptation
https://www.globalcoral.org/electric-reefs-enhance-coral-climate-change-adaptation/
See: Coral reef electrotherapy: field observations
https://www.globalcoral.org/coral-reef-electrotherapy-field-observations/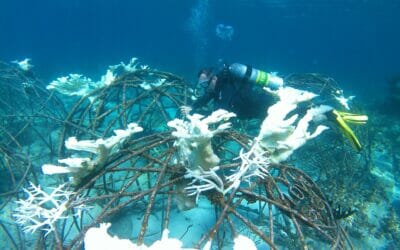 December 1, 2023 COP28: CORAL REEF EXTINCTION FROM GLOBAL WARMING REQUIRES REPARATIONS FROM FOSSIL FUEL PRODUCERS Thomas J. F. Goreau, PhD, President, Global Coral Reef Alliance 2023 is the hottest year in history, and Jamaica was the worst affected, with the highest...
read more
https://eartharxiv.org/repository/view/6244/ Bad Science and Good Intentions Prevent effective Climate Action Graeme MacDonald Taylor, Peter Wadhams, Daniele Visioni, Tom Goreau, Leslie Field, Heri Kuswanto 13 November 2023 https://doi.org/10.31223/X5DT25 Summary...
read more
Electric Reefs Enhance Coral Climate Change Adaptation, a chapter by Tom Goreau in the book: Corals - Habitat Formers From the Shallow to the Deep (Giovanni Chimienti, Editor), explains how the Biorock process greatly increases resilience of corals and marine...
read more
This paper presents the first comprehensive review of all visible biological effects of the Biorock electrolysis method of marine ecosystem regeneration that have been seen since the invention of the method in 1976. Extraordinary benefits are seen for the health of...
read more
Maldives Biorock Figures compressed January 31, 2022 GCRA White Paper MALDIVES BIOROCK: Past results & future applications Thomas J. F. Goreau, PhD President, Global Coral Reef Alliance SUMMARY The Maldivian way of life for more than four thousand years is under...
read more
Thomas J. F. Goreau, PhD President, Global Coral Reef Alliance Any development at Palmetto Point would cause significant, and probably irreversible, deterioration of water quality in Codrington Lagoon, Barbuda's major fish nursery ground. Codrington...
read more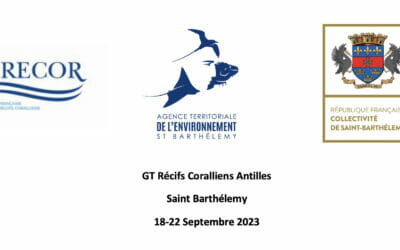 Three power point presentations showing the Biorock coral reef projects in Saint Barthelemy were presented to the IFRECOR (the French National Agency that funds coral reef research in the French Overseas Territories of the Caribbean, Pacific, and Indian Ocean)...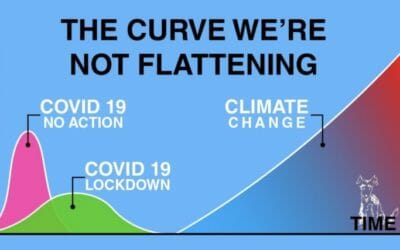 CARBON LIVES MATTER! Harmonizing carbon cost and price with lifetimes explains why global carbon trading schemes are severely distorted...
HELP US SAVE CORALS
GCRA, is accepting donations to help fund our programs in 2019, training local communities in developing countries to use Biorock methods for large-scale marine ecosystem restoration and sustainable mariculture for the following projects:
Indonesia
Panama
Jamaica
Vanuatu
Grenada
Bahamas
Philippines
Palau