JUNE 4 2023   2PM EDT

Coral reefs, the most temperature sensitive ecosystem, have already largely died from global warming and will be the first to go functionally extinct from global warming overshoot. Fossil fuel-addicted world leaders have sacrificed coral reefs. This talk will discuss options to maintain reef ecosystem services until climate can be stabilized at safe levels.
Educated in Jamaican schools, MIT, Caltech, and Harvard, Tom Goreau, President and founder of the Global Coral Reef Alliance, has dived for 66 years on coral reefs across the Caribbean, Pacific, Indian Ocean, and Southeast Asia. He was previously Senior Scientific Affairs Officer for Global Climate Change and Biodiversity at the United Nations Centre for Science and Technology for Development.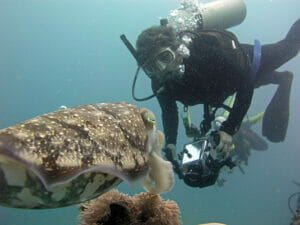 Photograph with cuttlefish by Rani Morrow-Wuigk, Menjangan, Bali