Global Coral Reef Alliance
(GCRA)
______________________________________________________
The Global Coral Reef Alliance is a small, 501(c)(3) non-profit organization dedicated to growing, protecting and managing the most threatened of all marine ecosystems - coral reefs. Founded in 1990.
GCRA is a coalition of volunteer scientists, divers, environmentalists and other individuals and organizations, committed to coral reef preservation. We primarily focus on coral reef restoration, marine diseases and other issues caused by global climate change, environmental stress and pollution.
We employ a method which allows reefs to survive and recover from damage caused by excessive nutrients, climate change, and physical destruction. The mineral accretion, or the Biorock® Process, is owned by Biorock®, Inc. and is licensed to GCRA. This technology has been successfully applied to fish and shellfish mariculture as well as to growing limestone breakwaters to protect islands and coastal areas from erosion and rising sea levels. Coral reefs built with the Biorock process are now growing in Maldives, Seychelles, Thailand, Indonesia, Papua New Guinea, Mexico, Panama and, in one of the most remote and unexplored reef areas of the world, Saya de Malha Banks in the Indian Ocean.
GCRA scientists work with foundations, governments or private firms to build, restore and maintain coral reefs, nurseries and marine sanctuaries. Projects include restoration and construction of coral reefs for mariculture and tourism as well as breakwaters for shore protection.
Coral reefs as they used to be. 1948, Bimini, Bahamas, photograph by F. W. Goreau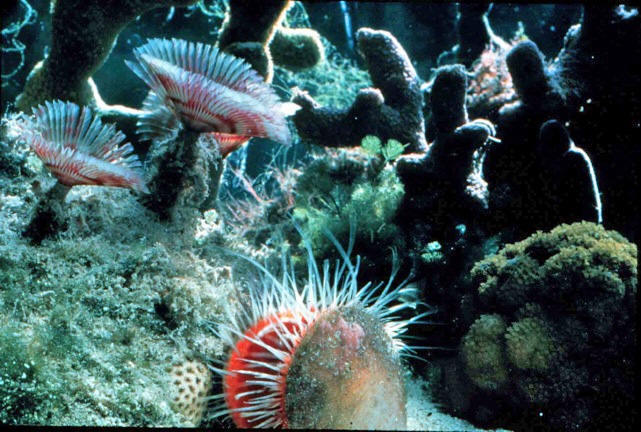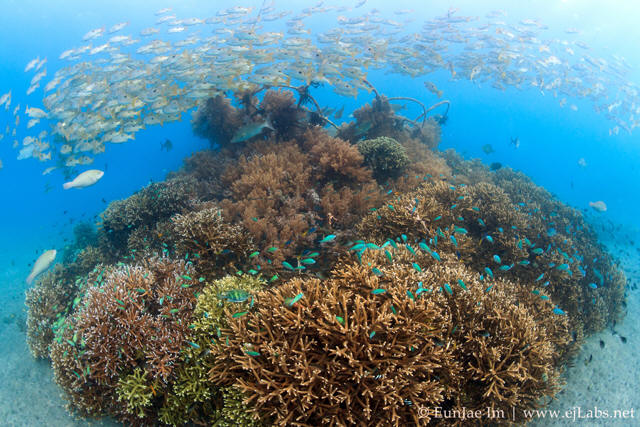 Coral reefs as they are now, when restored with GCRA Biorock® Technology
Photo May 2012, Pemuteran, Bali, by EunJae Im. 5 year old Biorock reef on formerly barren sand.
Pemuteran, Bali coral reef, before and after Biorock. 2001 and 2011. Photographs by Rani Morrow-Wuigk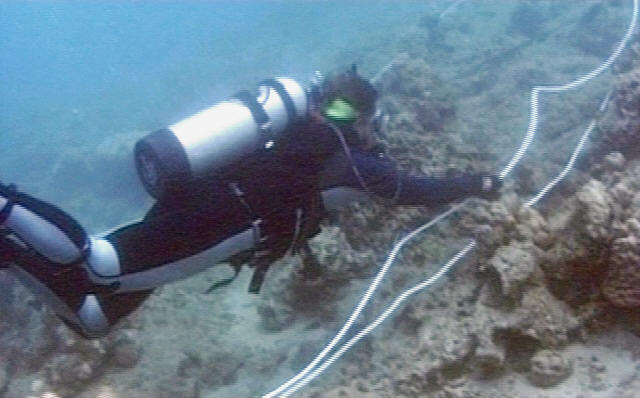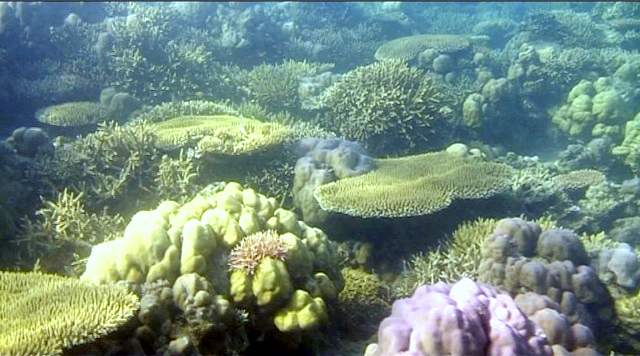 Down to Earth Global Warming Solution: T. J. Goreau, Letter submitted to SCIENCE January 1 2014 PDF

Please help restore coral reef fisheries devastated by Typhoon Haiyan: PDF Watch the supporting video Haiyan Coral Ark Appeal

Please support the Lauderdale-By-The-Sea Biorock Coral Reef Restoration Project: PDF

Watch the video Lauderdale-By-The-Sea Biorock Coral Reef Restoration Project

Saving Coral Reefs from Global Warming: Abstract 8th International Conference on Coelenterate Biology, Eilat, Israel, Dec 1-5, 2013: PDF

Coral calcification starts with intracellular vesicles: Hayes & Goreau 1977: PDF

Abaco Science Alliance Conference Abstract: Marsh Harbour, Abaco, Bahamas, January 16th-18th, 2014: PDF

Wolf Hilbertz's early work on growing structures in the sea:
Paul Cureton, 2013, Videre: Drawing and Evolutionary Architectures, Materials. Architecture. Design. Environment. (MADE), No. 7, Nov, pp.18-27. PDF

The proposed dolphinarium in St. Thomas should be rejected because coral reefs and fisheries will be killed by the pollution it will cause: PDF

Protected areas solution for marine tourism: - Jakarta Post article about Biorock reef restoration projects and protected areas in Bali

Watch Biorock reef restoration projects in Hilton Bora Bora Nui Resort, French Polynesia. Broadcast October 28th by FRANCE 2 TV

Brief overview of Biorock Technology Applications PDF

As Ocean Warms, the Impacts Multiply (Op-Ed) - Article posted on Yahoo News

Artificial Coral Reefs, by Daniel Peterlunger. Published in MARINA.CH - the leading nautical magazine of Switzerland (French and German versions) French German

Biorock video is a finalist in Island Press / Society for Ecological Restoration student video competition. Enormous thanks to all who helped make this possible. Read more...

Lloyd Godson is on a mission to encourage young people to pursue STEM (Science, Technology, Engineering and Mathematics) studies and careers and to conserve Australiaís unique marine biodiversity. See Lloyd's incredible project here... Please help Lloyd and his team of young Australian innovators create the ultimate underwater superhero headquarters for Tik and his fishy friend, Bubbles.

Biorock Project awarded the Labda Kriya Award from the Indonesian Ministry of Research and Technology on National Technology Day

Dumping sand on the shore kills the corals that grow the beach in Florida

The Karang Lestari Biorock Coral Reef and Fisheries Restoration Project in Pemuteran Bali was awarded the United Nations Equator Award for Community-Based Development and the Special UN Development Programme Award for Oceans and Coastal Zone Management in Rio de Janeiro in June 2012. This UN document outlines the benefits the project has provided to the local community. Karang Lestari Equator Award.pdf

Lauderdale-By-The-Sea Commissioners snorkel on the first US Biorock coral reef restoration project. Pompano Pelican article August 23, 2013.

AP reports military divers are being pulled off a project to clean up an artificial reef off the beach at Fort Lauderdale that turned into an environmental disaster.Reef Rescue

Watch Reef Reborn 2013 by Rani Morrow-Wuigk, June 18, 2013. See the results of how Biorock technology turned a barren underwater landscape into a thriving coral garden in Indonesia. Protection by the Village of Pemuteran, Biorock Technology and a dedicated team made this possible.

The Coral Goddess, May 21, 2013, watch the video of the update after two years of the Coral Goddess being sunk in the Coral Restoration Project "Karang Lestari".

Golf course fertilizer runoff causes algae blooms in a Bahamian coral reef. Bahamas National Natural History Conference, Nassau, March 5-8 2013

Plastic kills, in the most remote places. 2/2/2013

FOSSIL FUEL GLOBAL WARMING WILL SOON KILL CORAL REEFS, Thomas Goreau, 1/26/2013

New diseases of soft corals closely related to coral diseases and shellfish pathogens, James M. Cervino1,2, Briana Hauff2, 3,*, Joshua A. Haslun3, Kathryn Winiarski-Cervino4, Michael Cavazos3, Pamela Lawther2, Andrew M. Wier2, Konrad Hughen1, Kevin B. Strychar3

A comment by HRH The Prince of Wales on Royal Society Report Can a collapse of global civilization be avoided?, 1/9/2013

Innovative Methods of Marine Ecosystem Restoration, Revolutionary Methods for Restoring Damaged Marine Ecosystems A Ray of Hope in an Increasingly Gloomy Scenario, Thomas J. Goreau, Global Coral Reef Alliance, Cambridge, Massachusetts; Robert Kent Trench, Emeritus Professor, University of California, Santa Barbara, and St. Georges de Beauce, Quebec, Canada

Coral reef restoration in Indonesia and relevance to Saipan, Chris Nelson

Restoration of reefs, fisheries, and beaches against climate change (in Spanish), 1st Scientific Conference on Marine Science, Panama Maritime University, December 6 2012
Another Bahamas golf course pollutes coral reefs, Bahamas Press raises alarm over environmental concerns near the Paradise Island Golf Course, Dec 02, 2012

INNOVATIVE METHODS OF MARINE ECOSYSTEM RESTORATION, 312 page book, December 2012,
Ordering information is available at the book web site: Innovative Methods of Marine Ecosystem Restoration

The end of the reef? Interview with Dr. Peter Bell about eutrophication of the Great Barrier Reef. ABC Queensland - Australian Broadcasting Corporation (ABC)

Global sea level rise and low lying coasts: Don't be fooled by the calm before the storm that is about to hit us, Thomas Goreau, 10/7/2012

ELECTRICAL CURRENT GREATLY IMPROVES OYSTER AND SALTMARSH GROWTH AND SURVIVAL ABSTRACT: International Conference on Shellfish Restoration,

James Cervino, Rand Weeks, Jason Shorr, Carmen Lin, Dajana Gjoza, & Thomas J. Goreau,

December 12-15, 2012, Mystic, Connecticut

Biorock coral reef restoration projects underway in Malaysia

Please watch this urgent video of irresponsible and unnecessary destruction of Majuro reefs and sign the petition to stop it

Comments on Environment Impact Study for proposal for golf course and marina on the Great Barrier Reef, Thomas J. Goreau, PhD, September 6, 2012

, Abstract of Invited Keynote Talk at the 2012 International Conference on Biodiversity, Tom Goreau, November 6-8 2012 Briefing for small island developing states delegates to the UN Conference on Sustainable Development, June 20-22 2012 on the impacts of climate change on small island developing states.

Launch of 60 chapter 2nd Edition of THE GREEN DISC: NEW TECHNOLOGIES FOR A NEW FUTURE announced at the UN Conference on Sustainable Development, June 20-22, 2012

GCRA's Balinese Sister Organization, Yayasan Karang Lestari (Pemuteran Bay Protected Coral Association) is awarded 2012 United Nations Development Program Equator Award for Community Based Development and special UNDP Award for Marine and Coastal Management at the United Nations Conference on Sustainable Development in Rio de Janeiro, Brazil, for coral reef and fisheries restoration projects in Pemuteran, Bali, Indonesia. June 20 2012.

Yayasan Karang Lestari, Pemuteran, Bali, Indonesia, the worldÌs biggest, best, and longest continuously run coral reef restoration project, slide show at presentation of the 2012 equator award for community-based development, June 2012, Rio de Janeiro, Brazil

Comments on Fort Lauderdale Beach dredge-fill dumping project impact on coral reefs, Thomas J Goreau, June 1, 2012

THE PHYSIOLOGY OF SKELETON FORMATION IN CORALS. I. A MEASURING THE RATE OF CALCIUM DEPOSITION BY CORALS UNDER CONDITIONS, Thomas F Goreau, Biol Bull 116:59-75 (1959)

The Green Disc: New Technologies for a New Future now launched on the web March 12 2012

Victory for coral reefs against sewage, thanks to public outcry. Ed Tichenor, Palm Beach Reef Rescue, March 11 2012

Please support the right of the Indigenous Chagossians to return to their homes and to locally manage their coral reefs.

Open letter to Jamaican environmentalists in support of Jamaica Climate Change World Heritage Site Proposal, T. Goreau March 7 2012

Proposed Jamaica World Heritage Site shows that long term climate change will be much worse than recognized. T. Goreau March 4 2012

Open Letter by Patti Mulligan to Michael Meldman, CEO of Discovery Land Company, developers of Bakers Bay Golf Course, which is now threatening some of the Bahamas' best coral reefs

Abaco residents demand monitoring of reef systems,

Deinise Maycock

, The Tribune, February 28, 2012

Bahamian environmental organizations call for monitoring of the impacts of golf course development on coral reefs, Troy Albury, President, Save Guana Cay Reef, 2.23.2012.

Please sign petition for Florida Senate Bill 724, Domestic Wastewater Discharged Through Ocean Outfalls

THE GREEN DISC: NEW TECHNOLOGIES FOR A NEW FUTURE
Innovative Technologies for Sustainable Development, including renewable energy, waste recycling, water purification, ecosystem restoration, soil fertility restoration, carbon sequestration, shore protection, sustainable agriculture and mariculture technologies, etc. for economic and environmentally sound development and reversing global warming.
The 40 Chapter First Edition, released at the UN Climate Change Conference in Copenhagen in 2009 is now available in its entirety on the web.
The 60-80 Chapter Second Edition will be released at the UN Conference on Sustainable Development in Rio de Janeiro in June 2012.

Blue Planet Laureates: Environmental and Development Challenges Ò The Imperative to Act, This paper is a synthesis of the key messages from the individual papers written by the Blue Planet Laureates and discusses the current and projected state of the global and regional environment, and the implications for environmental, social and economic sustainability; Gro Harlem Brundtland, Paul Ehrlich, Jose Goldemberg, James Hansen, Amory Lovins, Gene Likens, James Lovelock, Suki Manabe, Bob May, Hal Mooney, Karl-Henrik Robert, Emil Salim, Gordon Sato, Susan Solomon, Nicholas Stern, MS Swaminathan, Bob Watson, Barefoot College, Conservation International, International institute of Environment and Development, and International Union for the Conservation of Nature; Feb 20, 2012

Mexican Tidal Project to Tackle Fresh Water, Electricity and Marine Life Sustainability,

Jason Deign,

TidalToday, 18 February 2012

Letter to Ron Simpson, Federal Aviation Authority, regarding the ongoing and planned destruction of some of the last prime reefs in Majuro, Republic of the Marshall Islands (RMI) for airport landfill, 2.20.2012

Biorock in Action: Gili Trawangan Gets a Star for Coral Regeneration, January 26, 2012

Biorock in Action: Gili Trawangan Gets a Star for Coral Regeneration, Coral Reef Restoration With Functional and Artistic Biorock Structures, February 15, 2012

A video showing the journey of the Deus Biorock sculpture makings its way from Deus in Bali to the seabed off of Gili Trawangan. Jan 22, 2012

Happy Winter Solstice from the Global Coral Reef Alliance. Here is a snorkel on a few of our hundreds of Biorock reefs in Bali, Indonesia. When the project began this site was largely dead corals with few fishes. Biorock structures were designed by the late Wolf Hilbertz.

COST EFFECTIVENESS OF CORAL REEF RESTORATION: BIOROCK® VERSUS NOAA, Thomas J. Goreau, PhD, December 12 2011

Allen "Grouper" Sherrod completed a World Record Duration Dive of more than two days at 10:30 AM December 3 2011 at the Lauderdale By The Sea Biorock

World Conference on Ecological Restoration, Merida, Yucatan, Mexico, August 2011 (Multiple Papers)

Biorock reef restoration in Pemuteran, Bali, Indonesia, filmed by Rani Morrow-Wuigk for the UN sponsored world wide TV program One Day On Earth in early 2012, featuring great projects from every country in the world.
11/11/11 ONE DAY IN PEMUTERAN BAY BALI
http://vimeo.com/32615744

"This is a documentary about the Coral Reef Restoration Project in Pemuteran Bay, Bali, Indonesia, filmed on 11/11/2011. This Project started 11 years ago using Bio-Rock Technology.
Biorock® reef restoration uses safe low voltage electrical currents to grow limestone structures of any size and shape in the sea. Corals, oysters, fishes, and other marine organisms are attracted to them and grow faster, have higher survival, and are much more resistant to environmental stresses such as very high temperatures. The Biorock process was invented by architect Wolf Hilbertz and developed by him and marine biologist Tom Goreau. The Karang Lestari project in Pemuteran is the largest coral reef restoration project in the world, and has been running since 2000."

Involves Rani E. Morrow-Wuigk.
Reef Reborn Ò Into the Unseen World, Most of BaliÌs coral reefs have been destroyed. Coral
bleaching and aggressive fishing have wiped out the reefs and much of the marine life. This is the story of a new technology which rebuilds coral reefs faster than they would naturally.
CORALS OF TRAWANGAN by Seth Greenspan, This 22-minute mini-documentary explores the myriad of complexities facing sustainable coral reefs in the face of increasing pressures from industrialization and associated climate change, while following Dr. Thomas Goreau's revolutionary efforts to help revive dying coral reefs and protect the future of endangered hard corals through the Biorock® workshops in Gili Trawangan, Indonesia.
Human Excrement to Blame for Coral Decline, Science Now, Gisela Telis, August 17 2011
Fools' Paradises and Castles On The Sand: Coastal Erosion And Global Sea Level Rise, January 22 2011, Tom Goreau, PhD, President, Global Coral Reef Alliance
Underwater images of Biorock Coral Reef Restoration projects, Bali and the Gili Islands, Indonesia, Matthew Oldfield, August, 2011
Bleaching and Reef Community Change in Jamaica: 1951-1991, Thomas J. Goreau, American Zoologist, Vol. 32, No. 6 (1992), pp. 683-695, Published by: Oxford University Press
Growing Reefs with Biorock Technology
Coral Reef Restoration Projects Using Biorock and Reef Balls, Epoch Times, Jul 4, 2011
Coral Reef Free-For-All provides a forum and encourages candid discussion of coral reef issues, including the politics (Yes! The politics! How and why human failings are killing coral reefs!) Of coral reef ecosystem research, conservation, and education -- issues that are in vital need of being aired among marine and coral researchers.
Coral Reef and Fisheries Habitat Restoration in the Coral Triangle: The Key to Sustainable Reef Management, Proceeding of Coral Reef Management Symposium on Coral Triangle Area, 2010, Thomas J. Goreau, PhD.
CORAL REEFS ARE DOOMED IN A FEW YEARS BECAUSE GOVERNMENTS FAILED TO REVERSE GLOBAL WARMING IN CANCUN, Thomas J. Goreau, PhD, Cancun, Quintana Roo, Mexico, December 11 2010
Tourism, Water Quality and Reef Health, a film by Thomas Goreau, 2010
Global Coral Reef Alliance Advisors and Partners
Donations Help Save the World's Reefs
GCRA is a non-profit, all-volunteer, 501 (c)(3) corporation; donations to Global Coral Reef Alliance are fully tax-deductible. No salaries or board perks are ever taken out of any income raisedÛ100% of funds raised goes directly to studying, building and restoring coral reefs around the world.
If you would like to contribute to GCRA's program for saving reefs, please send your tax deductible contributions to:
Dr. Thomas J. Goreau
President
Global Coral Reef Alliance
37 Pleasant Street, Cambridge, Massachusetts 02139, USA
Telephone: 617-864-4226, 617-864-0433
E-mail: goreau@bestweb.net
Web site: http://www.globalcoral.org

Or, donate via PayPal:
Copyright © 2007 Global Coral Reef Alliance. All rights reserved.
Biorock® is a registered trademark of Biorock, Inc. The Biorock® Process is owned by Biorock®, Inc.

Revised: 02/09/13.
Global Coral Reef Alliance, 37 Pleasant Street, Cambridge MA 02139
USA