Biorock® projects in Philippines featured in Chinese tourism magazine
Biorock coral reef and fisheries habitat project funded in Jamaica
Awakening of the senses, Gili Trawangan is not just about having fun in the sun. Join Mallika Naguran as she dives deeper into this island's underwater garden for a spot of coral reef restoration, Mallika Naguran, Foued Kaddachi, March/April, 2012.
Bali Biorock coral reef restoration projects get prestigious United Nations community development award, March 22 2012
Oysters show significantly higher growth rate and survival on Biorock electrical structures. Thesis by Nikola Berger, 2009.
The Green Disc: New Technologies for a New Future now launched on the web March 12 2012
Nature in the Sea: Island hopping in Lombok, by Bert Hoeksema (in Dutch). An article in a Dutch dive journal and it features Biorock at Lombok.
Abaco residents demand monitoring of reef systems, The Tribune, February 28, 2012
Bahamian environmental organizations call for monitoring of the impacts of golf course development on coral reefs, Troy Albury, President, Save Guana Cay Reef, 2.23.2012.
Biorock in Action: Gili Trawangan Gets a Star for Coral Regeneration, January 26, 2012
Biorock in Action: Gili Trawangan Gets a Star for Coral Regeneration, Coral Reef Restoration With Functional and Artistic Biorock Structures, February 15, 2012
BAKER'S BAY OPPONENTS:'OUR WORST FEARS REALISED', The Tribune, Neil Hartnell,
Tribune Business Editor, January 24,
2012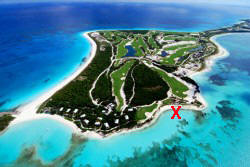 The red x marks the Baker's Bay site of the red and green algae bloom where the golf course green is near the shore.

Bahamas News - Developers Refute Allegations of Reef Damage, 1/24/2012

The Nassau Guardian, U.S. Scientists: Guana Cay at risk from golf course fertilizers, 1/24/2012

Bahamian Coral Reef Dying because of Golf Course, Scientists confirm Great Guana Cay reef is sick from fertilizer seeping from shoreline golf course,

Press Release,

January 19 2012

DAMAGE TO GUANA CAY CORAL REEFS, ABACO, BAHAMAS FROM BAKER'S BAY GOLF COURSE, Notes from the Road, Thomas J. Goreau, PhD, President, Global Coral Reef Alliance, Troy Albury, President, Save Guana Cay Reef, James Cervino, Woods Hole Oceanographic Institution, January 19 2012

LONG TERM SEA SURFACE TEMPERATURES TRENDS IN US AFFILIATED PACIFIC ISLANDS FROM SATELLITE DATA, 1982-2003, Pacific Islands Regional Climate Assessment (PIRCA), Honolulu, Hawaii, Thomas J. Goreau, PhD, Raymond L. Hayes, PhD, Global Coral Reef Alliance, January 16 2012

Allen "Grouper" Sherrod completed a World Record Duration Dive of more than two days at 10:30 AM December 3 2011 at the Lauderdale By The Sea Biorock

Electrified cages jolt coral reef survival, MSN Technology, John Roach, 12/27/2011

Biorock Project Brings Reef back to Life, The Japan Times, January 1, 2012

Spiegel Online, Künstliches Korallenriff in Bali, Gartenbau mit Taucherbrille, (German) Von Linus Geschke, 02.01.2012

THE KORALLION LAB (VAVVARU ISLAND, MALDIVES) PROPOSALS FOR TROPICAL MARINE RESEARCH, G. Arlotti1, J. Bythell2, G. Bavestrello3, C. Cerrano4, M. Ponti5, L.P. Madin6, J.McManus7, T.J. Goreau8, 9-12 November 2011

COST EFFECTIVENESS OF CORAL REEF RESTORATION: BIOROCK® VERSUS NOAA, Thomas J. Goreau, PhD, December 12 2011

From the Shore to the Seafloor: Living Sea Sculpture deploys A Sculpture project in Cancún, Mexico by Colleen Flanigan, January, 2012

Videos show the MSC Poesia that grounded on a reef on Jan. 7th 2012 off Lucaya Beach, Grand Bahama.
New Biorock motorcycle sculpture installed in Gil Trawangan, Lombok, Indonesia, December, 2011
Scuba diver breaks world record in Lauderdale-by-the-Sea, South Florida Sun-Sentinel.com, Erika Pesantes, December 3, 2011, Story: Text.
Biorock reef restoration in Pemuteran, Bali, Indonesia, filmed by Rani Morrow-Wuigk for the UN sponsored world wide TV program One Day On Earth in early 2012, featuring great projects from every country in the world.
11/11/11 ONE DAY IN PEMUTERAN BAY BALI
http://vimeo.com/32615744

"This is a documentary about the Coral Reef Restoration Project in Pemuteran Bay, Bali, Indonesia, filmed on 11/11/2011. This Project started 11 years ago using Bio-Rock Technology.
Biorock® reef restoration uses safe low voltage electrical currents to grow limestone structures of any size and shape in the sea. Corals, oysters, fishes, and other marine organisms are attracted to them and grow faster, have higher survival, and are much more resistant to environmental stresses such as very high temperatures. The Biorock process was invented by architect Wolf Hilbertz and developed by him and marine biologist Tom Goreau. The Karang Lestari project in Pemuteran is the largest coral reef restoration project in the world, and has been running since 2000."

Involves Rani E. Morrow-Wuigk.