James Cervino, Tom Goreau
Biorock has been used to stimulate the growth of the intertidal saltmarsh grass Spartina alterniflora in experiments at College Point, Queens, New York City. The nursery grown saltmarsh grass pots were planted inside the squares of a steel mesh laid flat on the sediment surface, which received a trickle charge of direct current. Uncharged control plants were planted on either side (N and S), and further away at the same elevation in the intertidal (SW), in case those near the current were affected by the electrical field. The S control was planted in an uncharged steel mesh to see if the steel itself affected the growth.
In the first year (2008) the Biorock saltmarsh grew in height much faster, was noticeably darker green in color, and had more stems per plant than controls. In the Spring of 2009 most Biorock Spartina sprouted, but almost all controls died over the winter. Fresh controls were planted, and in 2009 the Biorock saltmarsh again grew taller, while most controls died. The same pattern was seen in 2010.
It should be noted that the Biorock saltmarsh plants were lower in the intertidal than the lowest growth limit of saltmarsh in the area, that is to say they were growing lower than saltmarsh could normally grow, a unique result. Furthermore they were located in sediments next to a toxic solid waste dump, and severely polluted with trace metals, PCBs, dioxins, and petroleum residues derived from a former Navy shipyard, and illegal construction dump-site.
These results indicate that Biorock increases saltmarsh growth, increases resistance to pollution, and allows saltmarsh to grow in places where it normally could not survive, providing a uniquely powerful tool for saltmarsh restoration. Biorock methods could allow Saltmarshe grasses to be grown SEAWARD of their natural lower limit, extending the thickness of saltmarsh shore protection buffers against coastal erosion in places such as Louisiana.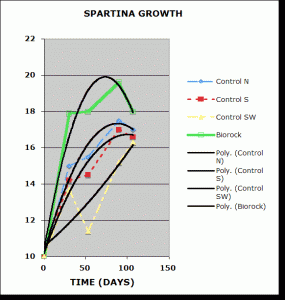 2008 results for Biorock spartina, controls on either side of it (north and south) and for a remote control at the same elevation in the intertidal (sw). The black curves are 2nd order polynomial least squares fits to the data.
SPARTINA 2009 SUMMER DATA
PLANT HEIGHT:
All began at 9 inches (avg hight).
ELECTRIC
After 4.5 weeks, had an average height of 14.5 inches.
NON-ELECTRIC
After 4.5 weeks both control (un-wired) grids had an average height of 11.5 inches.
Growth of Biorock Spartina 2.2 times faster
OVERWINTER SURVIVAL:
ELECTRIC:
Planted 70 plugs. Following season 55 of those plugs re-grew (78.6%)
NON ELECTRIC
Control North: 70 Plugs: 4 re-grew (5.7%)
Control: North: 70 Plugs: 1 re-grew (1.4%)
Regeneration of Biorock Spartina 22.1 times greater
In 2010 the Biorock Spartina again resprouted and grew and survived much better than controls. We are still acquiring data on the results.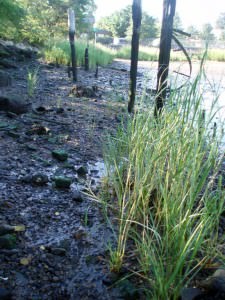 BIOROCK SPARTINA (FOREGROUND) AND CONTROLS (SPARSE PLANTS DOING POORLY IN THE MIDDLE) ARE PLANTED BELOW THE LOWER LIMIT OF NATURALLY REGENERATING SPARTINA (BACKGROUND).