For nearly 30 years we have been able to predict mass coral bleaching accurately with the Goreau-Hayes Satellite SST HotSpot method (Goreau, 1990 US Senate Hearings on Climate Change; Goreau et al., 1993; Goreau & Hayes, 1994). We have routinely predicted, and confirmed, bleaching events that have never been documented by the coral list or NOAA. There were many such bleaching events last year in places that were hotter for longer than the GBR, but dive shops are now routinely concealing bleaching as "bad for business".
In one large area of the Pacific where bleaching was certain last year, only one single dive shop would admit it had happened, but did not send photos, not one of the other dive shops would respond to a request for confirmation if bleaching was happening.
The NOAA data base and the web site that documents the HotSpot data is still up, but this may simply be an accidental oversight, as all US Government sites documenting climate are being shut down because the data contradicts the politically-motivated lie that climate change is not happening!
It is very important that other countries take the data leadership role that the US regime is now destroying, because otherwise no-one will have warning when their corals are about to bleach or die.
We can only hope that the European Union, Japan, and China take up the responsibility of real time HotSpot mapping needed to provide alerts.
If there is no database documenting coral death from heat stroke, Governments will continue to falsely say that 2 degrees C further warming is "acceptable", they will continue to sentence coral reef ecosystems to death, and billions of people living along low lying coasts to become desperate migrants, so many that no walls will be high enough.
Below is the latest Pacific HotSpot map. In case it is the very last one that we will ever see it is important to realize that a large area of the South Pacific from the Great Barrier Reef, New Caledonia, Vanuatu, Fiji, Samoa, and Tonga is warming rapidly and now is at or just below bleaching thresholds, although of course it will take about a month at present conditions for it to be generally noticeable, sooner if it continues to warm up, as normal at the very start of the hot season.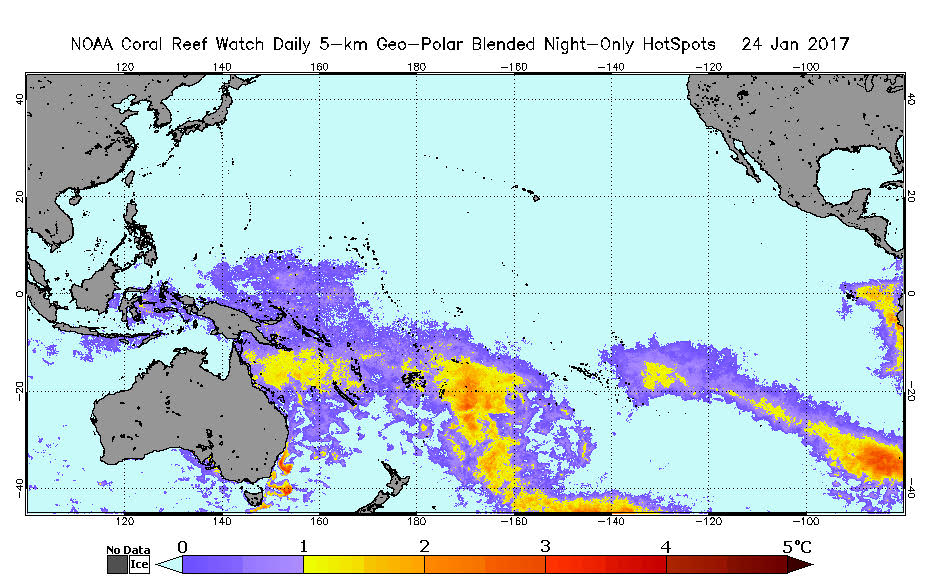 The current rate of warming is greatest in the GBR, bleaching temperatures have been reached unusually early in the season, and the hot season in Australia has not even started yet!
Barring miraculous cooling, there may be little coral left in the GBR later this year.
Ray Hayes and I have always pointed out that it is extreme events that cause bleaching, not mean changes, and the model based predictions of bleaching, which are based on mean rates of change, which say that bleaching might be a problem in the GBR in another 50 years, have proven falsely optimistic yet again.
When lies trump truth, the new dark ages begin.