BIOROCK ELECTRIC CORAL REEF RESTORATION COMES BACK HOME TO JAMAICA AFTER 25 YEARS
The first new Biorock electrical coral reef restoration project in Jamaica for 25 years has been started.
The small project is located in front of Westender Inn, at the extreme end of the West End of Negril, facebook.com/westenderinn
Electric reef restoration technology was invented and developed 30 years ago in Jamaica by late architecture Professor Wolf Hilbertz and Dr. Tom Goreau at the Discovery Bay Marine Laboratory (T. J. Goreau & W. Hilbertz, 2012, Reef restoration using seawater electrolysis in Jamaica, in T. J. Goreau & R. K. Trench (Editors), Innovative Technologies for Marine Ecosystem Restoration, CRC Press).
It is a few kilometers from the last Jamaican Biorock project, in Little Bay. Local fishermen were amazed to see corals grow right over the solar panel powered Biorock reef.
Made from layers of conch shells, it was crowded with young lobsters and fish until the Biorock reef, the solar panel, and nearby houses were demolished by Hurricane Ivan on September 11-12 2004. Local fishers are eager to see more Biorock!
The area offshore from the project site had been a vast forest of elkhorn coral that reached the surface, which was demolished by Hurricanes Allen, Gilbert, and Ivan. There has been little or no sign of reef recovery along most of the coastline, except in a few small areas.
We have found elkhorn colonies nearby and are rescuing loose naturally broken coral fragments that are still alive but that would otherwise die, and propagating them on the Biorock reef.
There are so few remaining living naturally broken fragments now left in the area that we are starting with only around a dozen small naturally broken coral fragments, mostly Acropora palmata, Porites astreoides, Porites divaricata, Diploria clivosa, Diploria strigosa, and Agaricia agaricites. Two of these were found completely bleached where they had been washed into crevices.
But there are young corals of half a dozen species all over on the rocks underneath the Biorock structure, and these will grow up through the Biorock reef, while new corals will settle all around.
The result is that we will grow the reef upwards by about a meter, protecting the rocky shore from erosion, and eventually allowing sand to build up. The entire seafloor of the area is now eroding severely because it is densely covered with rock-boring sea urchins, constantly chewing holes right into the dead reef rock. We will turn a collapsing reef back into an actively growing one.
The return of life-saving Biorock electric reef restoration technology back home to the island of its birth can restore the lost corals, fishes, and vanishing beaches all around Jamaica if done on a large scale. Twenty-five years of involuntary exile from Jamaica were forced on us by lack of funding and support from both Jamaican and foreign institutions.
Since then we did around 400 Biorock projects in around 40 countries all around the world, keeping reefs alive when they would die from high temperatures and pollution, growing corals back rapidly in places where there has been no recovery, and even growing back severely eroded beaches in just months.
The Global Coral Reef Alliance thanks the Westender Inn, Negril for their support for the project, in particular Dan Brewer, Keith Duhaney, Steve Drotos, the entire Westender staff, Booty, Beenie, Ken, Ceylon Clayton, and the people of Orange Hill and Little Bay, Westmoreland, Jamaica.
Let's make Jamaica's coral reefs, beaches, and fisheries beautiful again: bring Biorock back home where it was born!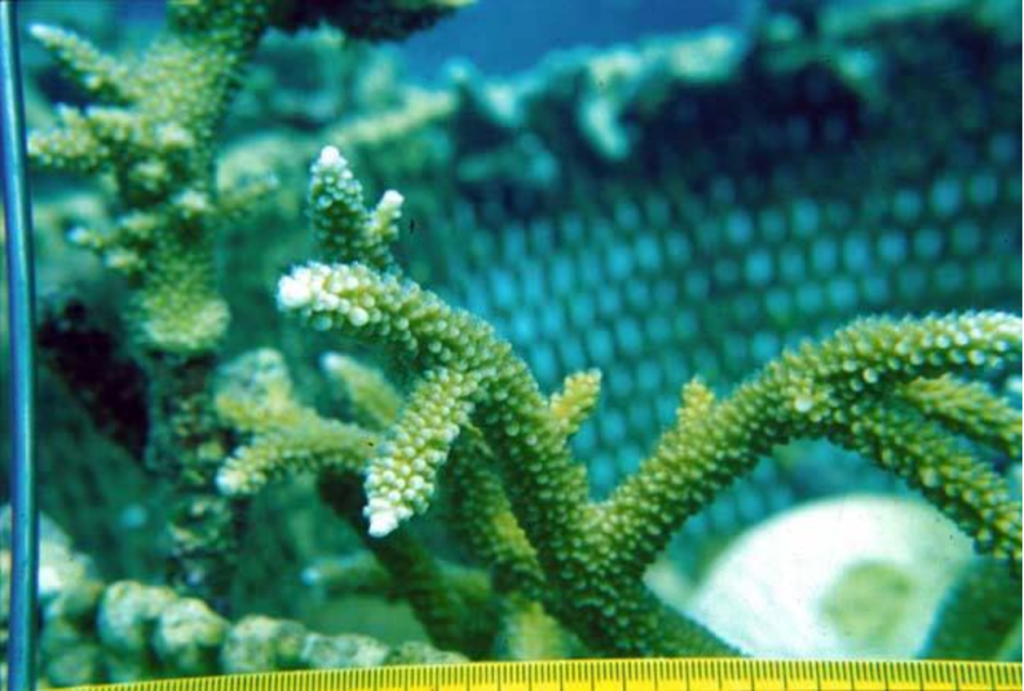 Staghorn coral growing nearly a centimeter a week on a Biorock reef in Negril, Jamaica. Photograph by Wolf Hilbertz, 1992