Nine new Biorock reefs were installed on June 25th and placed under power on the next day by the Global Coral Reef Alliance (GCRA), the Grenada Coral Reef Foundation (GCRF), and students and fishermen from the community at Gouyave, Grenada. In the following two weeks a similar number was installed at L'Esterre, Carriacou.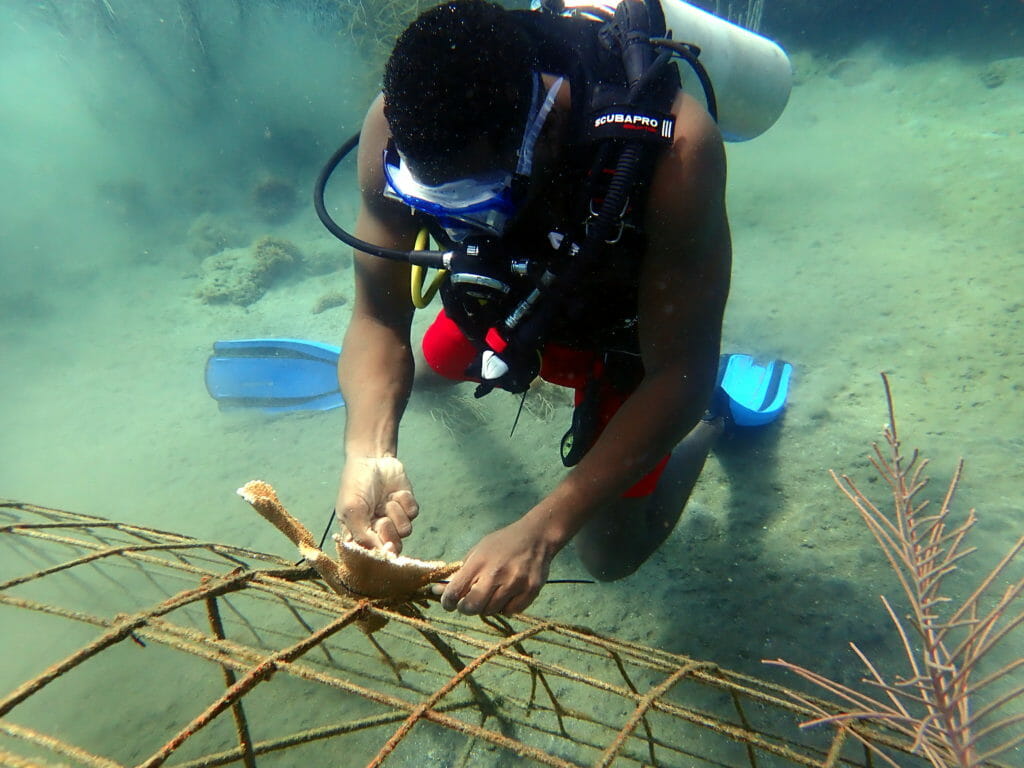 The reef structures, in shapes ranging from tunnels, domes, and a starfish, were built by Gouyave fishermen and students following a GCRA Biorock Training Workshop. They were installed on bare sandy areas on the reef north of the Gouyave Fishing Pier.
Corals naturally broken by waves or by anchor damage, which would mostly die rolling around on sand or rock, will be rescued and transplanted onto them, and the area declared a national Fish Sanctuary and Marine Protected Area by the Grenada Government Ministry of Agriculture and Fisheries.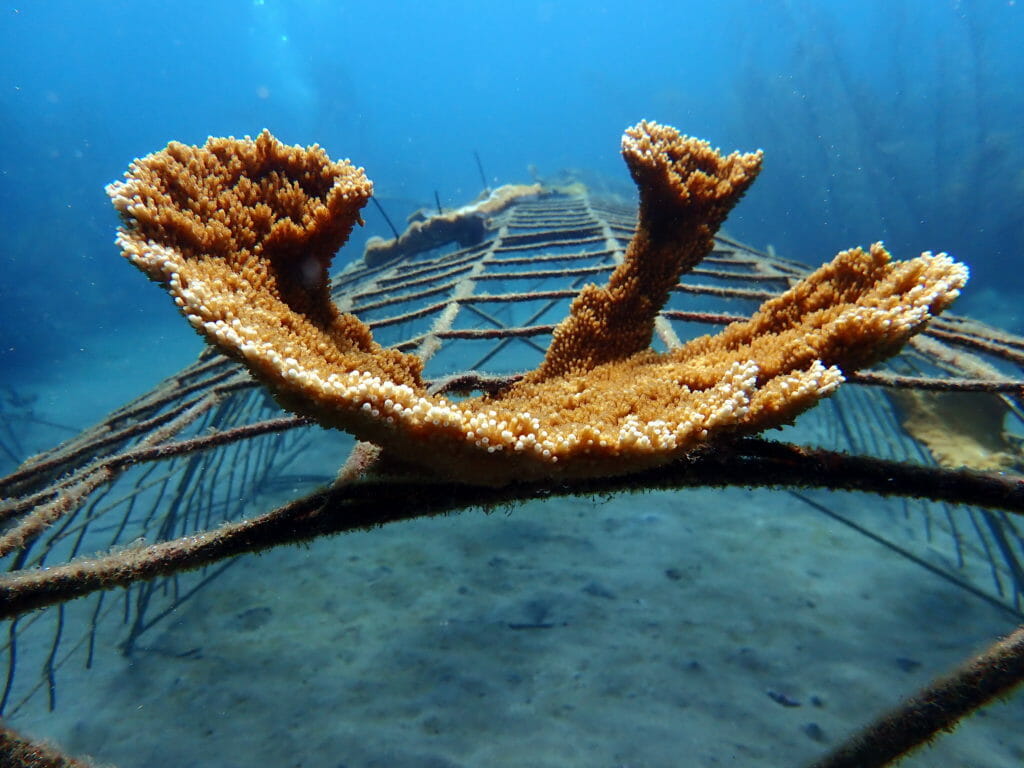 The project, managed by local non-profit organizations, is expected to restore the inshore coral reef fisheries and create a new tourism snorkeling, diving, and glass bottom boat attraction.
The Grenada Coral Reef Foundation plans to use the site for expanded future projects and as a training center to hold workshops on superior methods of reef restoration for Grenada, the Grenadines, and the Eastern Caribbean.
The project follows a detailed assessment of sites for coral reef restoration in Grenada and Carriacou by Dr. Thomas Goreau of GCRA, Roland Baldeo, then Chief Fisheries Officer of the Grenada Department of Fisheries, and Olando Harvey of the Grenada Marine Protected Areas program. It took two more years before funding could be found to implement the first advanced ecosystem-based, community-managed coral reef fisheries restoration projects in Grenada and Carriacou.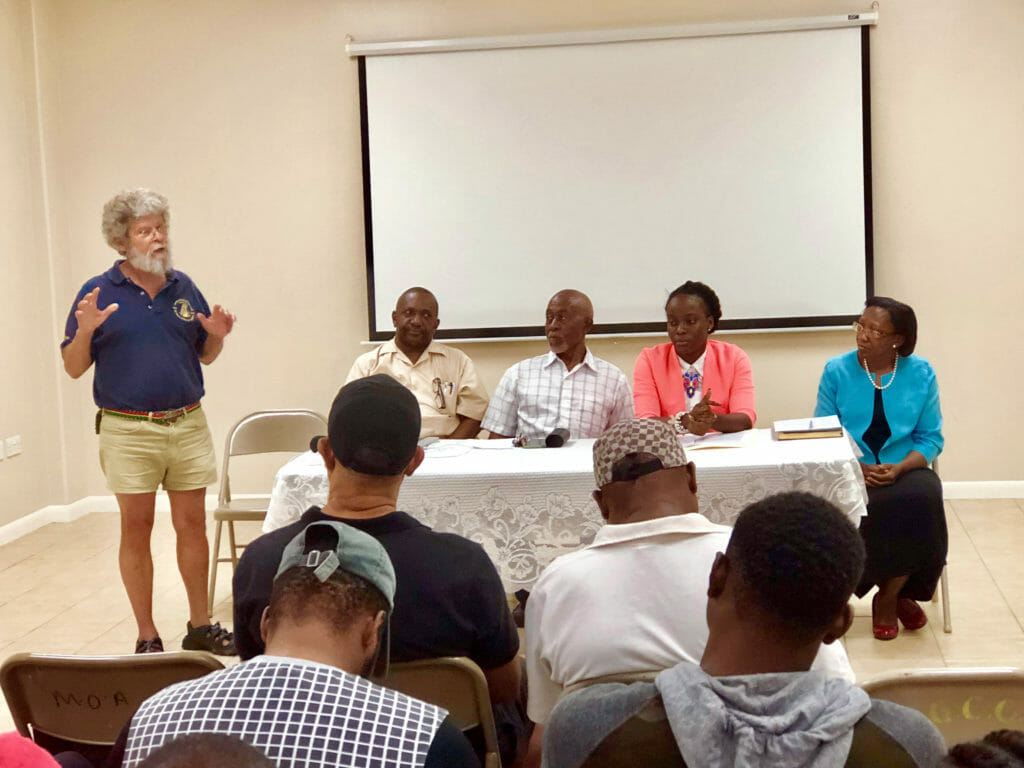 Biorock reef regeneration techniques were invented and developed in Jamaica in the 1980s by the late architecture professor Wolf Hilbertz, and Dr. Thomas J. F. Goreau of the Discovery Bay Marine Laboratory, Jamaica. It is the only method of marine habitat restoration that greatly speeds up settlement, growth, survival, and resistance of corals and all marine organisms to severe environmental stresses (like high temperature, mud, and pollution). Biorock reefs survive when all around them die from severe environmental stress events, and reefs are restored and severely eroded beaches regenerated at record rates even where there is no natural recovery.
Funding for the Gouyave and Carriacou Biorock reef regeneration projects was provided by the Caribbean Community Climate Change Centre (CCCCC, the 5 Cs). Management of the projects will be done by the Gouyave and Sandy Cay/Oyster Bay marine protected areas, the Grenada Community Development Agency (GRENCODA), the Grenada Organic Agriculture Movement (GOAM), and local fishing communities.
Please find the local press releases posted in NOW Grenada site in the links below:
Gouyave Biorock Pilot Project to combat reef degradation
Biorock installation off Gouyave near completion
Contact:
Roland A. Baldeo, Executive Director, Grenada Coral Reef Foundation
rolandbaldeo@gmail.com
Tel: 473 534 5796 (Mobile)
SKYPE rolandbaldeo