The warning was issued 20 years ago, when the Townsville Bulletin published this article about how coral bleaching was affecting the Great Barrier Reef and how global warming would kill the corals.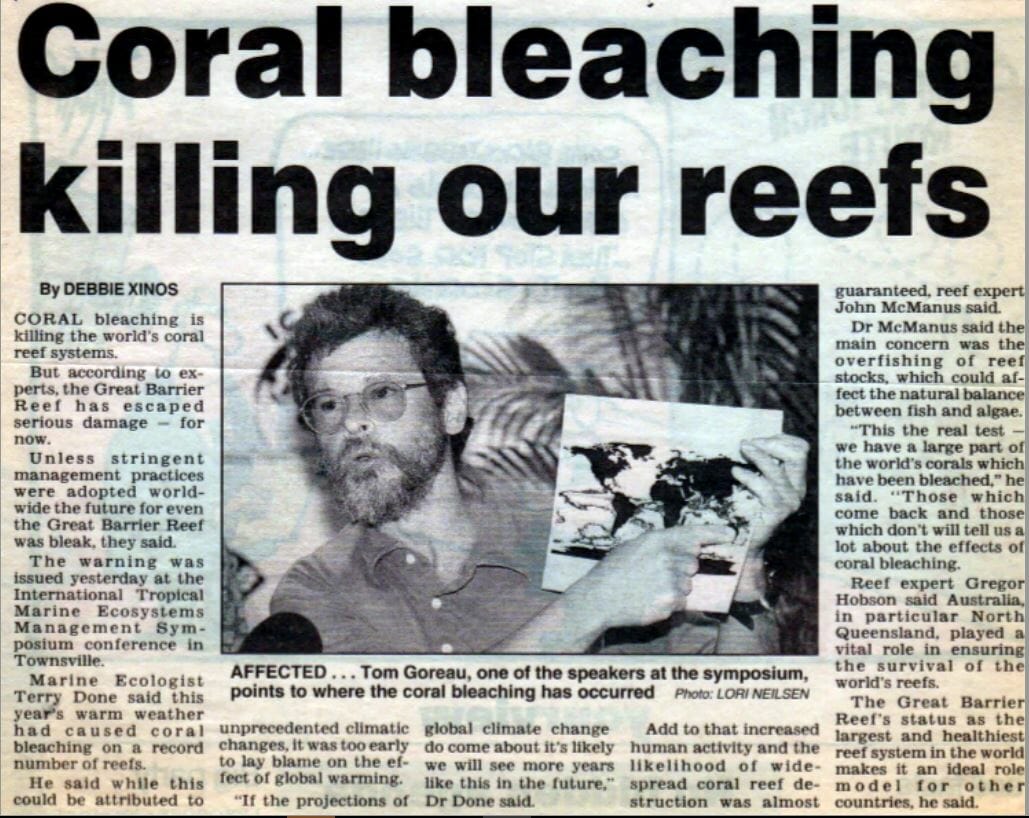 Transcript:
Coral bleaching killing our reefs
By DEBBIE XINOS
CORAL bleaching is killing the world's coral reef systems.
But according to experts, the Great Barrier Reef has escaped serious damage — for now.
Unless stringent management practices were adopted worldwide the future for even the Great Barrier Reef was bleak, they said.
The warning was issued yesterday at the International Tropical Marine Ecosystems Management Symposium conference in Townsville.
Marine Ecologist Terry Done said this year's warm weather had caused coral bleaching on a record number of reefs.
He said while this could be attributed to unprecedented climatic changes, it was too early to lay blame on the effects of global warming.
"If the projections of global climate change do come about it's likely we will see more years like this in the future", Dr Done said.
Add to that increased human activity and the likelihood of wide-spread coral reef destruction was almost guaranteed, reef expert John McManus said.
Dr McManus said the main concern was the overfishing of reef stocks, which could affect the natural balance between fish and algae.
"This the real test — we have a large part of the world's corals which have been bleached", he said. "Those which come back and those which don't will tell us lot about the effects of coral bleaching.
Reef expert Gregor Hobson said Australia, in particular North Queensland, played a vital role in ensuring the survival or the world's reefs.
The Great Barrier Reef's status as the largest and healthiest reef system in the world makes it an ideal role model for other countries, he said.